Construction and Development
At Patriot Excavating and Paving, we stay connected to our clients and how their needs might change and develop during our pre-construction process. We stay flexible and focused in trying to identify and adhere to critical timelines and project benchmarks.
We do our best to anticipate and identify potential issues around crew scheduling, equipment availability and any limitations weather or ground moisture might dictate.
We pride ourselves in finishing on-budget and on-line; sometimes, even ahead of schedule!
Pre-construction
Detailed pre-planning helps Patriot Excavating and Paving to head-off any of the many challenges that might delay or derail your project. The collective experience of our ownership, management and working crews helps us to offer better problem-solving, better design implementation and a tighter working budget.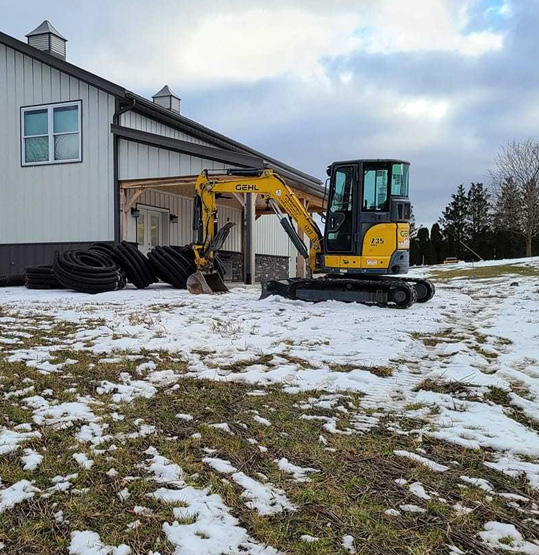 Earthwork
Mass excavation & grading
Foundation excavation & backfill
Road construction
Water Mains
Water main & water service installation
Meter pits
Water main re-locations
Pond Excavations
Residential ponds
Ponds on commercial Properties
Storm Sewers
Storm sewer installation
Downspout collection systems
Box culverts
Underdrains
Sanitary Sewers
Sanitary mains & laterals
Foundations
Excavations
Contours and grading
Performance and Value
At Patriot Excavating and Paving, we are always ready to review your plans and are willing to make any cost saving suggestions. Our experience will keep your next project on-budget and on-time. Our goal is to help you build the job as efficiently and economically as possible – without any compromise on quality.
We welcome all project bids in Indiana's Northwest region of Lake and Porter Counties – including residential and commercial projects in Chesterton, Valparaiso, Crown Point, Portage and Dyer, Indiana. As one of the fastest growing paving and excavating companies in Indiana, we welcome the opportunity to provide a FREE ESTIMATE for your next construction project.
Call Patriot Excavating and Paving at (219) 688-0261 – or, CONTACT US here. We have the equipment and well-trained staff to handle a variety of projects – including YOURS!